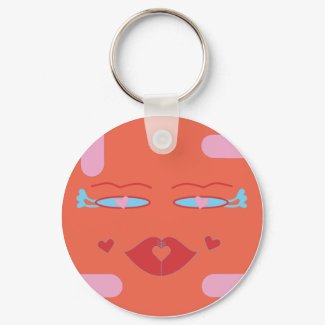 Orange Sponap, "Mutuli"
by
talilehavi
Browse more
Planet Keychains
The Sponaps live on Sponapia. All the Sponaps are made of shapes that have heart "bites" taken out of them. Because of that, they want to connect to other Sponaps to complete the heart.
With this keychain, you will connect to others with a Sponap key chain. You can play the game of matching them to make a heart—a HeartMark!. Sometimes it takes a few turns of the keychain to link it just right!
The HeartMark is a heart that is made of one or more connecting pieces. The HeartMark was invented by Tali Lehavi when she invented the heart hand gesture and named it the HeartMark. She then tried to think of all the elements around us that can connect in the same way. Lehavi patented and trademark the HeartMark connection!
The goal of all the products under the HeartMark brand is to create products that connect through love. The product reflect how we feel about ourselves and our environment. We are all unique individuals, but we love to connect, and when we connect, we connect through love!
The Sponaps keychain allows you to express the same sentiment. Which Sponap keychain do you love?
I HeartMark You,
and thank you for connecting with me and others! 🙂
Tali